User experience and user interface face design were once thought to be "nice to have." Outside of design-driven firms, UX/UI design and related disciplines—UX research, UX authoring, product design, and information architecture—were frequently treated as an afterthought with little company commitment.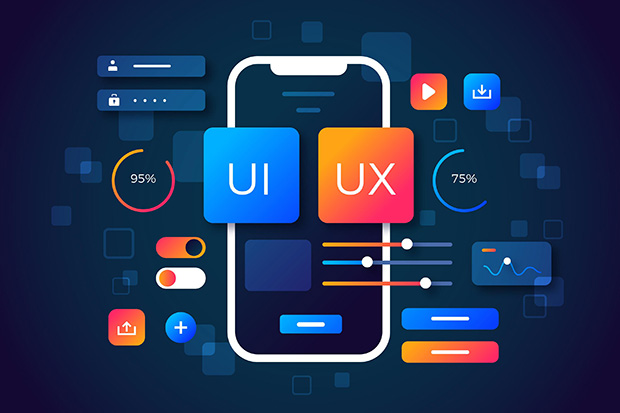 However, organizations have changed their tune in recent years. Demand for UX/UI designers has soared as UX specialists have demonstrated their value by assisting firms in better understanding their users, developing more engaging products and services, and solving business problems. With that in mind, below are seven key skills that UI/UX designers should have and develop.
Prototyping and Wireframing
Visualizing what a product will look like is, perhaps, the most important aspect of the product development process, which is why this section is the longest. Depending on the stage of development, this could be accomplished by building wireframes, low or high-fidelity prototypes, mockups, or user flows.
A wireframe is a web page layout devoid of visual design and is used to prioritize page elements based on user requirements. A prototype is a sample or simulation of a finished product used to test and collect feedback.
Low-fidelity prototypes may be hand-drawn on paper and may not allow user interaction. High-fidelity prototypes are often computer-based and can be interacted with using a mouse and keyboard. A mockup is a realistic visual representation of how a final webpage or application will appear. A user flow diagram depicts each step a user takes when utilizing a product or service.
These interaction design aspects are hands-on abilities that demand practice. Fortunately, you can begin with a pen and paper. To become acquainted with the components, practice drawing wireframes and user flows for an app or website that you already use frequently.
Visual Design and Familiarity With Popular Design Software
To build the visual parts, both UX designers and UI designers use visual design applications such as Figma, Sketch, Photoshop, and Illustrator. Aside from tool skills, you should expand your knowledge of visual design best practices in areas such as typography, color theory, layout, icons, and general design theory. These skills can be learned on your own, although the above programs are not cheap to buy. You can, however, typically get free trials for some of these programs that will last seven days before you have to buy anything.
Usability Testing and User Research
To create a product that solves a user problem meets a user's need or satisfies a user in general, you must first understand who that user is. This is where user research comes in.
Conducting deep user research for the product or feature you're building can help you improve it. You'll undertake user testing as you create prototypes to confirm your design choices. Understanding how to iterate through these two user-centric phases will help you become a more effective designer.
Research is something you only get better at through practice, so anytime you have the chance to collaborate on a project or contribute ideas, whether in an academic or professional setting, make strong research and an abundance of information the foundation of your ideas.
Information Architecture
Information architecture refers to how content is organized and ensuring it is done properly. IA that is well-done helps users to find the information they are looking for, with good UX designers making it straightforward for users to navigate a page and intuitively know where to go.
If you are just starting out on your IA journey, you can start by doing some research on basic and recurring website architecture patterns. Practice by creating sitemaps of websites and apps that you enjoy using in the same way you would with the wireframing process. Keep doing this until you have a good understanding of what makes for good IA.
Agile
Agile refers to a bunch of different common project management techniques used in development. It is based on an interactive approach to development that sees projects pass through and improve throughout various iterations. It is one of the most popular approaches, and UX designers should add this PM strategy to their repertoire.
There has been a convergence of UX and agile to the extent that a new term and discipline has come forth, known as "agile UX." It isn't necessary for you to be a master of every single element of project management to succeed as a UX designer, but having the fundamentals down will make a big difference on a resume and in a job interview.
Application Dev
While UX designers are not often expected to write code (that is the responsibility of developers), having a basic understanding of application development languages such as JavaScript, CSS, and HTML can be beneficial.
Understanding how applications are built can benefit you as a UX designer in several ways. You'll have more realistic expectations of what your design is capable of. You'll communicate and collaborate more effectively with the development team. And small startup enterprises that hire for a broader range of abilities may find you more marketable.
Soft Skills
In addition to the above hard skills, you will also need to collaborate well within a team, communicate and be able to present your ideas to others, prioritize tasks, and manage your time well. These are skills and qualities that you develop over time and ones that are valued just as, if not higher than some of the above hard skills when determining your fitness as a potential employee.
Conclusion
UX/UI is a discipline that has grown considerably in recent years. Pursuing this career track will provide you with opportunities to make tech more accessible for users, solve creative business problems, get hired by, and work for top companies, work in a diverse array of industries, and come with a high median salary.
The best part is, you don't need extensive coding experience to get hired and thrive. Keep the above essential skills in mind and make sure you have the tool kit to get hired and make an impact and stay up to date on the latest UI/UX trends to ensure you can speak confidently and intelligently about your profession.