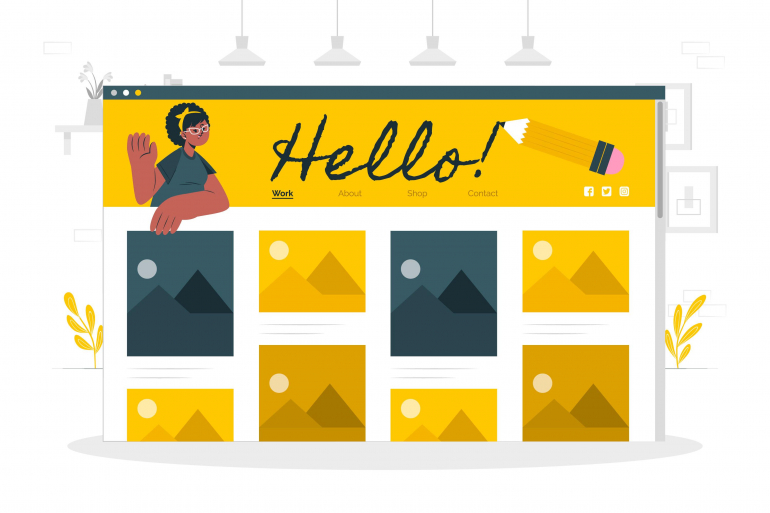 There are numerous web platforms and social media applications all around the world that are capable of changing your life and rejuvenating your business the way nothing else can. Thankfully, more and more people are beginning to recognize the importance of shifting online to achieve their business targets.
Sadly, however, most are still unaware of the importance of having a great, well-optimized profile as an avenue to increase their business appeal and their chances of success.
Today, we're here to tell you how you too can separate yourself from the pack through nothing but the power of a great profile page.
The Power of a Great Profile Page
Profile pages are the front door of your online business. Whether it's the profile page on your own website, on social media, or on a third-party platform where you carry out your business, an optimized profile is important because it gives you the power to convert mere visitors into long-term fans and supporters of your business.
Regardless of how effective your traffic generation is to your profile; you still need an attractive page to pass across important information to your visitors and hopefully make them click the follow button or any other link you want them to.
So how do you go about building the perfect, highly optimized profile page for better conversion? We provide all the most important tips below.
Tips for the Best Profiles
Send the Right Message
The number one thing you want to get absolutely right on your profile is the message. Every profile has a message, and usually, the best ones have a singular, powerful message.
Now on your profile, you have a lot of avenues to pass across this message. There are different sections and different media types such as visual elements and text-based aspects, but all of them should work together to help you deliver the message you're trying to pass across to your audience - which is that you're worth paying attention to.
So instead of just haphazardly slapping together a few texts and images here and there, it pays to take the time to come up with a strong message and dedicate the whole page to effectively delivering this message.
Keep it Consistent
Still on the topic of passing across an important message, there is also a need for uniformity that simply can't be ignored. Visitors tend to get confused when you bombard them with numerous vague messages.
Instead, a clear, direct, and consistent message helps them assimilate your point a lot easier, and what's more, it helps them become immediately familiar with your brand because they automatically know what you're all about.
Consistency not only involves messages, but also style. Sticking with the same style in all sections of your profile helps breed the same kind of familiarity with your target audience.
Visual Uniformity
Another aspect of consistency worth noting is consistency in your visual elements. Usually, most profile pages allow customizations of profile pictures and cover images. Some even allow complete banners and background customizations.
What's important here is to ensure that there is a great deal of uniformity and consistency of style among all of these visual units.
Not only does it make for a better aesthetic appeal, but it also provides the same effect as the preceding point, which is to help your profile visitors become at ease and familiar with your brand.
Keep it Simple and Direct
Keeping things simple and direct on your profile applies to both your message (as touched upon earlier) and most importantly your style. You don't want a style that is too complex. While complex may seem great on the surface, people actually don't have enough attention span to start to decipher complex messages or templates. You want something straightforward and direct to the point.
Study Your Competition
Before you proceed with your actual profile design, it pays to do quick research on your competition to find out what exactly they are doing right. This way you can come up with a plan for yourself, using their structure as a sort of template.
Of course, there will still be many unique customizations on your end, but the framework remains the same. One of the biggest appeals of templates is reliability and familiarity.
Your competitors who have been there before you have already figured out what works, and what's more, your target audience is already used to it. It would be completely wrong if you don't at least try to take advantage of this edge as much as you can.
Make Use of Templates if You Can
Apart from niche templates regarding profile outlook, you can also make use of actual design templates on your websites. Want a beautiful cover image but don't want to design yours from scratch? By all means, use a template!
Want a beautiful background image but don't want to design yours from scratch? By all means, use a template! Want a profile picture design but don't want to design yours from scratch? By all means, use a template!
In short, pretty much every visual aspect of your profile can do with a template, and what's more, these kinds of templates can be easily gotten for free on sites like Designurbate that offer high-quality templates without charging a dime.
Templates have gotten a bad rap over the years, but they are still remarkably effective and can help you set yourself apart from the competition fast.
Break the Rules
Lastly, it is worth mentioning that the greatest designers are those who know the rules and are willing to break them. Ultimately, it's your profile and the final decision is yours.
Feel like shaking things up a bit and going against convention? Then go for it. As long as you know what you're doing and are willing to take the risk, breaking the rules is absolutely fine. And that's all you need to know about designing a great profile. Follow all of these tips above and you should be completely on your way to having the best profile in your niche in no time at all.