Social media strategy is a list of everything you intend to do on social media and how you intend to accomplish it. It tells you if you're succeeding or failing, and advises your activities accordingly.
More precisely is better when it comes to your strategy. Keep it short and sweet. Don't set it too high or broad; else, it will be difficult, if not impossible, to achieve.
We'll lead you through an 8-step process for developing your own successful social media marketing strategy in this post.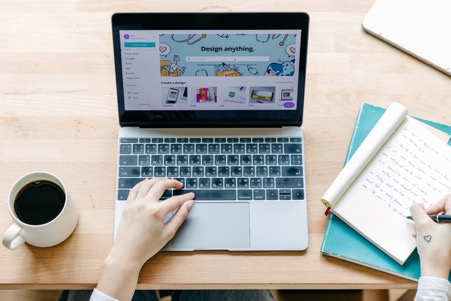 1. Clear & Measurable Social Marketing Objectives
Begin by deciding what you want to accomplish using social media. In six months, what do you hope to see from your online persona?
Here are a few instances of shared objectives and goals:
Enhanced conversion rate
Build a relationship with potential clients by reaching out to them
Setting the standard for the industry
Increase brand recognition
You need to know how to develop worthwhile social media goals.
Everything you do will help you achieve the goals you have set for yourself. Measurement is an essential part of establishing social media goals.
As an example, "I want more DMs" can be quantified. It is a success if you obtain 50 DMs instead than 30.
An objective such as "I'd like visitors to like visiting my page more" is more difficult to quantify.
2. Learn As Much As Possible About Your Target Audience
The key to successful social media marketing is identifying your target audience and providing them with the content they want to see. Make sure your content is something they want to read, remark on, and spread. Your social media followers must be converted into consumers if you want to grow your business.
Things to know about your target customer include:
Age
Location
Average income
Typical job title or industry
Hobbies or Interests
The more you learn about your consumers and supporters, the better equipped you will be to communicate with them on social media.
3. Examine The Positives, Negatives, And The Best Ways To Improve
If you've made it this far, you should have a clear image of your social media approach. As long as you're able to adjust your strategy during the year, you should be fine.
It's impossible to tell if one campaign outperformed another if you don't track your progress. Your social networking activity can be put into perspective by looking at it from above. Looking at your most popular content and changing your marketing strategy when you see a dip in traffic is an important part of this process.
A lot of social media is a subject of trial and error. Your
social media management plan
can be fine-tuned by making modest adjustments rather than large, time-consuming alterations.
To get social media marketing correctly, you have to be meticulous with your data upfront. Short-term reactions can help you get the most out of current campaigns, but the long-term proactive implementation of the lessons learned from these re-evaluations can yield better results in the long run.
4. Watch Out Your Competitors
If your competitors are already utilizing social media, then you can learn from their successes and failures and improve your own social media strategy.
Analyzing your competitors gives you a clear picture of who your main competitors are and what they're doing successfully. With the help of this information, you may define your own social media goals for the future. It will also aid you in spotting chances.
Perhaps one of your competitors dominates Facebook but hasn't put much effort into Instagram or Twitter. Focus on the channels where your demographic is neglected, rather than attempting to win over fans from a dominant player.
5. Seek Out Motivation From Other Social Media Success Stories
It's essential that your brand be distinct, but it's also possible to draw inspiration from other social media-savvy firms. These are often located in the network's business segment.
Using case studies can help you improve your personal social media strategy.
For eg: The champions of The Facebook Awards and The Shorty Awards are excellent examples of brands who are excelling in social media marketing.
What social media accounts do you enjoy following? What is it about their material that makes people want to interact and share it?
6. Set Up A Content Calendar For Your Social Media Postings
Having a strategy for when and how you'll share material is critical if you want it to have the greatest impact. Social media content planning must also take into account the time you spend engaging with your customers.
Each of your social media channels has a designated time and date for posting different types of material. All of your social media interactions, from photographs, links, and user-generated content re-sharing to blog articles and videos, may be planned here. Content for marketing campaigns as well as your daily posts is included in this package.
Additionally, by using a calendar, you may plan out your postings so that they appear at the most optimal times.
7. Create A Strategy For Visual Content Creation
Using video on social media is extremely popular. More than 1.5 billion people watch YouTube shorts every month.
Video consumption on Facebook is also on the rise, particularly among advertisers. Even Twitter's mobile version for iOS and Android allows you to record video (up to 30 seconds long).
If you're having trouble coming up with the graphic content your social media strategy necessitates, you're not alone. Video capture software for free is a great way to improve the quality of your visual content.
8. Reuse Evergreen Content
Evergreen content can be recycled as part of a sustainable content strategy. Post Planner makes it incredibly simple to reuse material.
You only need to click "Recycle" before you post anything. Afterward, the content can be re-posted. It's even possible to program it to repeat at predetermined intervals.
The content can be programmed to repeat from the first week of each month if the event is recurring monthly. When required, you can make changes before it goes live each month.
Conclusion
The above social media marketing tips can assist you in developing a social media content strategy that works for your business. Don't forget that success in social media doesn't happen immediately. But it's definitely worth it in the long run for your organization.