The U.S. economy is clearly slowing with high inflation and fears of a recession looming large across the globe.
Advertising spend is highly dependent on consumer habits and when a recession hits, consumers tend to focus on necessities such as groceries. In general, ad spend often decreases due to consumers' lower amount of disposable income and lack of faith in the economy.
However, this doesn't mean that you should cut your marketing budget entirely; it just means that you should be more selective about where and how you advertise. Recessions can provide opportunities if you know how to take advantage of them.
To better understand what marketers are planning during this recession, my company, Fraud Blocker, sent out a survey to nearly 200 advertising media buyers and we share those results in this article. We also outline several strategies you can use to help you outperform the market.
How concerned are marketers about a recession?
In the first question, nearly half of the respondents, 44%, stated they were somewhat or very concerned about a slowing economy in the next 12 months.
This is very significant and smart marketers should be planning now in the event the economy turns over.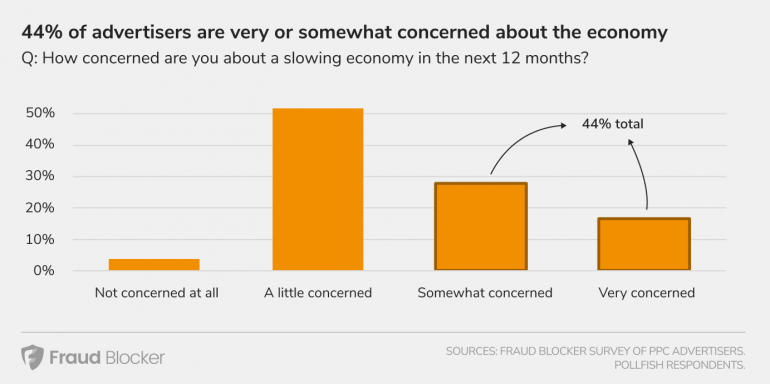 When do they believe a recession will start?
The vast majority, 54%, believe the recession will harm their business the most in the first quarter of 2023.
It's also important to note that a typical recession in the modern era lasts about 10 months. The Great Financial Crisis in 2008 lasted 18 months so marketers should put in place strategies that can last over an extended period of time.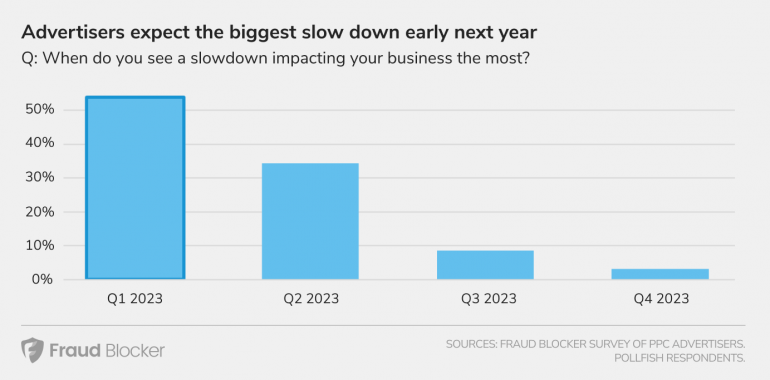 How will advertisers adjust their marketing mix?
This was a critical part of the survey and we started by asking advertisers how they would adjust their ad spend during a recession.
Most respondents said they would reduce their budgets a little, however, there was some slight variation among Business-to-Consumer (B2C) and Business-to-Business (B2B) marketers.
Some B2C respondents said they would increase their spend during a recession. These particular users generally worked in consumer staple industries - such as groceries, home goods, and alcohol.
B2B marketers had a more varying spread with some reporting they'd reduce their ad spend significantly while others said they'd increase it significantly.
For marketing mix, there was a wide spectrum of responses, but traditional media (e.g. TV, radio, print), SEO and affiliate marketing is where advertiser's reported they would pull back on the most.
Conversely, they would increase their spend on social media, digital marketing, and content marketing.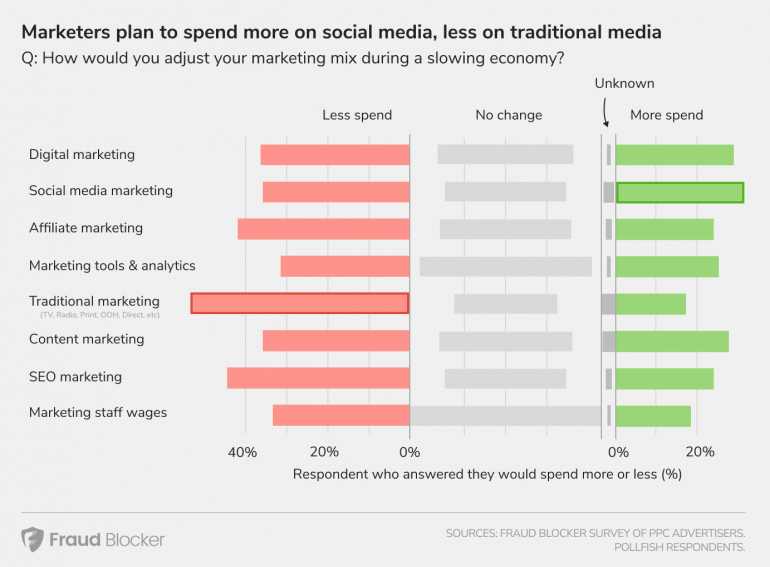 Advertisers also use a lot of advertising tools and software, but they may need to prioritize them in the event of budget cuts or shrinking performance numbers.
Results showed that social media and PR were the convincing favorites for this question.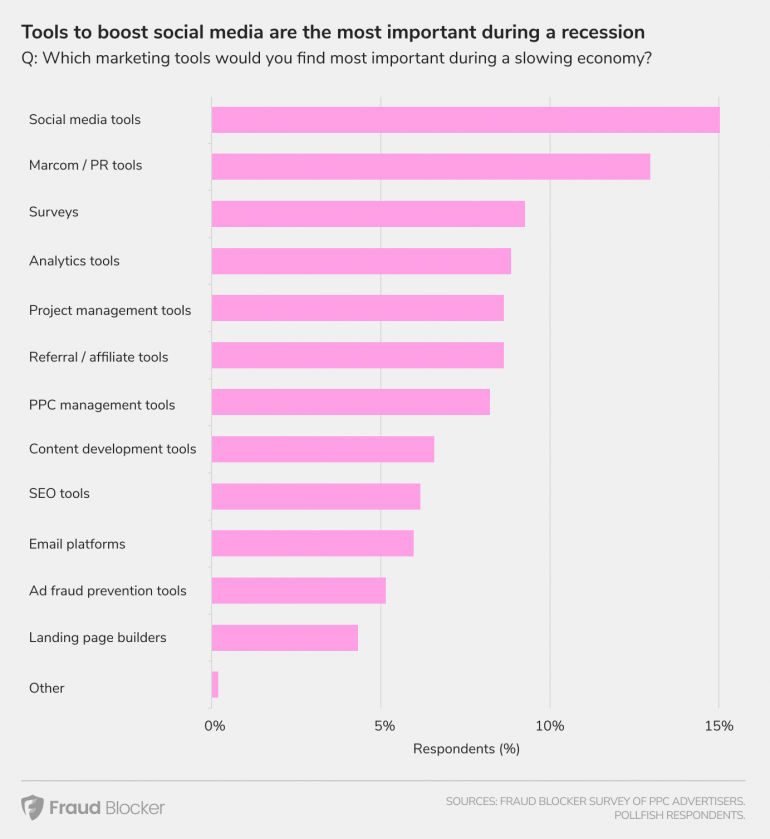 5 Key takeaways from the survey results
Here are some advertising strategies for you to consider to help you take advantage of an economic downturn.
1. Boost your "owned" media efforts
If you're cutting back on your paid marketing efforts, consider increasing them on your "owned" media.
Owned, earned, and paid are different types of advertising promotions. Owned media refers to the channels that a company owns and has complete control over, such as its website, social media accounts, and email newsletters. Earned media refers to the coverage and exposure a company receives through word-of-mouth, customer reviews, and other unpaid mentions. Paid media, on the other hand, refers to the channels that a company pays for, such as paid search, display ads, and sponsored content.
By focusing on your owned media, you can increase the engagement of your existing users while saving on the often heavy cost of paid media.
2. Nurture your most loyal customers
Your loyal customers are your best customers as they're the ones that keep coming back, even during tough economic times.
Loyal customers also convert at much higher rates exceeding 60%, while new customers are expensive to acquire and convert at only a 5-20% rate.
A little gratitude can go a long way so consider thanking them with special perks such as exclusive access to new products, early access to sales and promotions, or personalized gifts. Ask for feedback and prioritize their phone calls.
Every little bit can go a long way.
3. Advertise while others are pausing
As we saw in our survey results above, most advertisers are planning on reducing their budgets during a recession. Less ad spend reduces demand for inventory and can reduce the costs of advertising.
For example, if there are less businesses competing for a search term on Google Ads, then the cost-per-click (CPC) will be lower. Similarly, less demand for outdoor billboard space will reduce the costs per unit.
4. Squeeze every dollar from your campaigns
A recession can be a great time to reduce the waste and inefficiencies in your ad campaigns and better understand your customer's buying behavior. These can often be neglected during growth periods. Here's a few areas to review:
Improve your tracking data - ensure you have detailed conversion tracking set up at every stage of your purchase funnel including post-sale.
Become a performance marketer - focus on lead-generation and high-performing landing pages that closely monitor Cost-Per-Lead (CPL), Return-on-Ad-Spend (ROAS), Lifetime Value (LTV) and other performance-based metrics.
Hyper optimize your analytics - thoroughly review your site analytics to look for efficiencies across SEO, advertising and content.
Monitor for ad fraud - ad fraud is expected to reach $81 billion this year. Consider investing in ad fraud prevention tools (note: I'm the owner at Fraud Blocker)
In a recession, every company is looking for ways to save money. As an advertiser, you need to review your budget to see where you can cut costs. You may need to reallocate your budget to more efficient channels or reduce your overall spending.
5. Strengthen your Brand Trust with customers
According to a poll, 46% of Americans would be willing to pay more for products they could trust (Salsify, 2022).
Brand trust refers to the extent to which consumers trust a particular brand and have confidence in its ability to provide high-quality products or services. It's an important aspect of a brand's reputation and can have a significant impact on a company's success by helping improve sales and reduce churn.
In a recession, it is more important than ever and you can help build this trust through consistent, high-quality experiences, honesty, and transparent communication with consumers.
Final Thoughts
Our survey results show that there can be good opportunities for advertisers during a recession. But whether or not to advertise is a complex decision that depends on a variety of factors, including your industry, target audience, and advertising goals. In general, it is important to carefully consider the potential risks and benefits of advertising during a recession.
Survey Methodology
The Fraud Blocker survey was conducted by Pollfish and concluded on November 25, 2022. It was sent to a randomized group of PPC marketers and media buyers in the US, Canada and the UK who purchased, or managed the purchase of, digital advertising. 161 respondents completed the survey. Pollfish is a leading survey company with a pool of over 480 million mobile audience members worldwide that participate in their surveys.