Did you know -
The revenue of online marketplaces is predicted to hit $3.5 trillion by 2024.
Online marketplaces accounted for 47 percent of all digital sales in the world.
A third of shoppers say they prefer to shop on online marketplaces repeatedly.
This clearly states that people love shopping from popular online marketplaces such as Amazon, Etsy, eBay, etc. But, does that mean your WooCommerce store doesn't stand a chance to survive against these mammoths?
No. In fact, this opens a whole new window of opportunities for you to promote WooCommerce products to a vast audience and in many cases for absolutely free.
In this article, we will discuss ways to promote WooCommerce products and also find out how you can list and promote your products on giant marketplaces with minimum effort.
Let's begin.
Ways to promote WooCommerce products
Let's start by discussing some of the best ways to promote WooCommerce products. Here are some effective ways to promote your WooCommerce products:
Optimize your website for search engines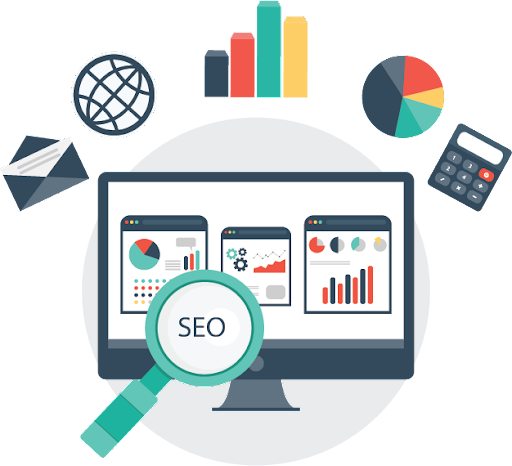 Use relevant keywords in your content, and optimize your images to improve your website's search engine rankings.
Use social media
Promote WooCommerce store products on social media platforms like Facebook, Instagram, Twitter, and LinkedIn. Use paid social media advertising to reach a wider audience.
Email marketing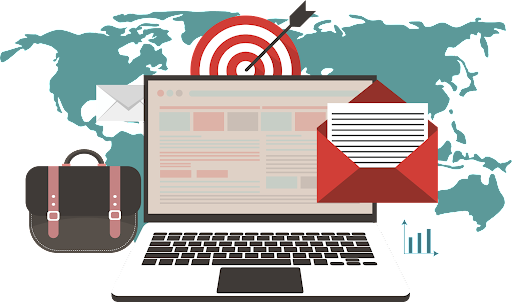 Build an email list and send newsletters or promotional emails to your subscribers highlighting your products.
Use Product Feed Marketing

Utilize product feed marketing to distribute your product listings to multiple channels such as Google Shopping, Amazon Marketplace, eBay, and more. You can use plugins like WooCommerce product feed generator to generate a feed for your products and submit it to various marketplaces to attract potential customers.
We will discuss product feed marketing in detail in later segments of this article.
Offer discounts and promotions
Offer discounts or promotional codes to encourage customers to make a purchase. Consider offering a discount for customers who sign up for your email list or make their first purchase.
Leverage influencers
Partner with social influencers in your industry to promote your products on their social media channels. When they promote your products on their social channels, their followers will put trust in your product and eventually start buying from you.
Create high-quality content
Create high-quality content such as blog posts, videos, and tutorials that showcase your products and provide value to your customers.
Attend events and tradeshows
Attend industry events and tradeshows to showcase your products and network with potential customers and partners.
Offer free shipping
Consider offering free shipping on your products to make them more appealing to customers. This can increase the chances of them making a purchase.
Use retargeting
Use retargeting ads to show your products to customers who have previously visited your website or added items to their cart but didn't complete their purchase.
Offer upsells and cross-sells

Suggest related products or upgrades to customers during the checkout process to increase the average order value.
Create a loyalty program
Offer rewards or discounts to repeat customers to encourage them to continue purchasing from your store.
Use customer testimonials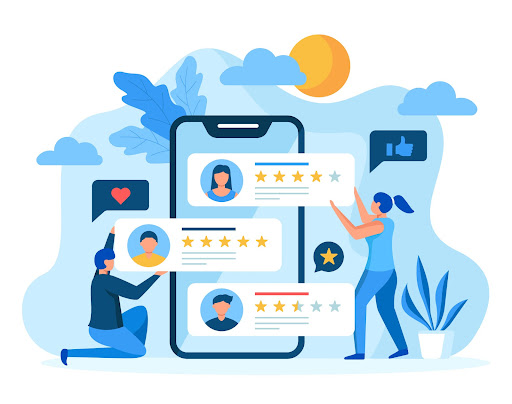 Showcase customer testimonials and reviews on your website to build trust and social proof with potential customers.
Collaborate with other businesses
Partner with other businesses in your industry to cross-promote each other's products and reach a wider audience.
Use remarketing emails
Send targeted emails to customers who have abandoned their cart or haven't made a purchase in a while to encourage them to complete their purchase.
Use video marketing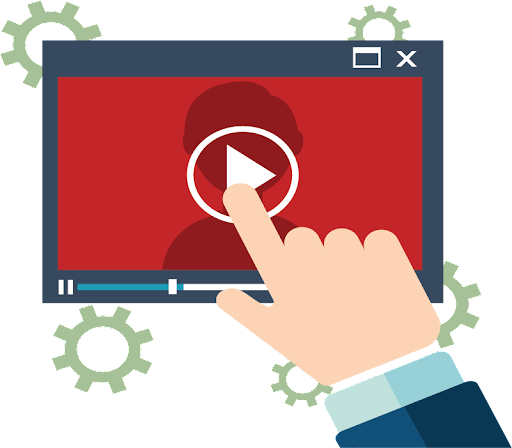 81% of consumers say they have made a purchase after watching a brand video.
Create product videos and showcase them on your website and social media channels to provide a more engaging and immersive experience for your customers.
Use affiliate marketing
You can offer a commission to affiliates who promote your products on their website or social media channels.
Offer a money-back guarantee
Offer a money-back guarantee to provide reassurance to potential customers and encourage them to make a purchase.
Use live chat
Offer live chat support to answer customer questions and assist with purchasing.
By implementing these additional strategies, you can effectively perform promotions & marketing for WooCommerce store and increase your sales. Remember to keep track of your results and continually optimize your marketing efforts to achieve the best possible outcome.
Product feed marketing to promote WooCommerce products
We have learned so far that online marketplaces have a bountiful of visitors and buying customers. Amazon alone has a whopping 5.69 billion visitors per month.
There is no shortage of online marketplaces, price comparison engines, and social media platforms that support WooCommerce product promotion.
You can list and promote WooCommerce products on giant marketplaces such as Amazon, Etsy, eBay, Walmart, Target, Rakuten, etc. These marketplaces already are immensely popular and have billions of regular visitors and potential buyers.
Therefore, these platforms can be the perfect place for sales promotion for WooCommerce. Through these platforms, you can reach a vast range of audiences and boost your sales.
However, listing your products one by one manually in a marketplace wouldn't be a practical idea and will take a long time and effort. Hence comes product feed marketing.
What is product feed marketing?
Product feed marketing means listing, displaying, and promoting your WooCommerce products on multiple channels through a product feed file.
In addition to online marketplaces, you can use product feed files to list and promote your products on price comparison websites as well.
94% of people who buy stuff online look around for the best deal. For 36% of consumers, researching and comparing prices takes more than 30 minutes, while for 65%, it takes 16 minutes or more before they commit to buying a product.
Visitors to the price comparison websites are actively looking to buy the specific products you are selling on your WooCommerce store. So, when you list your products on these platforms, you will have a higher chance of driving potential customers and an increase in sales.
You can also compete directly with your rivals and come up with better pricing strategies when you promote WooCommerce products on price comparison engines.
You can use product feed files to list your products on price comparison engines such as Google Shopping, Idealo, PriceGrabber, Pronto, Yahoo Shopping, etc.
Another type of marketing channel that can be used for the effective promotion for WooCommerce is social media.
New studies show that by 2023, the social commerce market will have grown to over $1 trillion. Social commerce sales are estimated to increase by 30.8% from the previous year, totaling $958 billion.
Facebook, Instagram, and Snapchat are some of the platforms where you can promote WooCommerce products through product feeds.
You will also need a product feed file to run paid ads on shoppings engines such as Google Shopping ads, Bing smart shopping ads, etc.
What is a product feed file?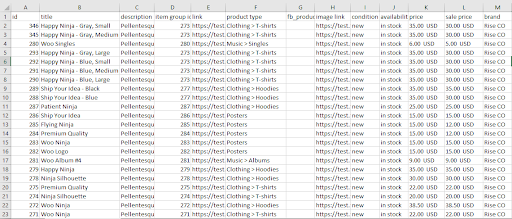 A product feed file is a file that contains a list of products along with their attributes, such as title, description, images, price, and availability, in a structured format that can be easily consumed by other systems, such as online marketplaces, comparison shopping engines, and advertising platforms.
It typically uses a standardized data format, such as XML, CSV, or JSON, and is updated regularly to ensure that the information is accurate and up-to-date. Product feed files are used to share product information between different systems, automate product listing and advertising, and improve the visibility and sales of products in online channels.
What are the attributes in a product feed file?
Attributes in a product feed file refer to the specific characteristics or properties of a product that are listed in a structured format in the file. These attributes provide information about the product's identity, features, pricing, and availability.
These attributes are essential for online marketplaces, advertising platforms, and comparison shopping engines to display and promote the product accurately.
Examples of attributes that may be included in a product feed file are:
Product ID or SKU
Product name
Product description
Brand
Category
Price
Sale price
Availability
Product image URL
Shipping cost
Weight
Dimensions
Color
Size
Material
UPC or EAN code
The specific attributes required in a product feed file may vary depending on the system it is intended to be used with and the industry or product category of the products being listed.
Benefits of product feed marketing for WooCommerce
Product feed marketing can offer several benefits for WooCommerce merchants, including,
Increased visibility
One of the primary benefits of product feed marketing is that it can increase the visibility of a merchant's products. By listing products in multiple online channels, merchants can reach a wider audience and increase the chances of potential customers discovering their products.
This can be especially useful for small businesses or merchants who are just starting and don't have an established customer base.
Improved sales
By reaching a broader audience, merchants can attract more potential customers and increase sales. Product feed marketing can also enable merchants to optimize their product listings, pricing, and promotions based on the performance data provided by the different channels.
For example, if a particular product is performing well on a shopping engine, the merchant can adjust the pricing or offer a promotion to further boost sales.
Cost-effective advertising
Many online channels, such as shopping engines and marketplaces, offer cost-effective advertising options based on the product feed data, such as pay-per-click (PPC) or cost-per-impression (CPM) models. This can enable merchants to advertise their products without spending a large amount of money upfront.
Additionally, since product feed marketing allows merchants to target specific customer segments based on their interests and behaviors, it can result in a higher return on investment (ROI) than traditional advertising methods.
Automation
By using a product feed management tool or plugin, merchants can automate the process of listing and updating their products across different channels, saving time and effort. This can be especially beneficial for merchants with a large number of products or those who frequently add or update their product listings.
Better data insights
Product feed marketing can provide valuable data insights, such as customer behavior, product performance, and market trends. Merchants can use these insights to optimize their marketing strategies and improve their overall business performance.
For example, merchants can use the data to identify which products are most popular or which channels are driving the most traffic and sales.
Using a product feed WooCommerce promotions plugin to promote products
Your primary goal should be WooCommerce product promotion to boost sales using product feed files on as many channels as you can, right?
However, as you know by now, different channels require a different set of attributes in their feed file to properly display and promote WooCommerce products on their platform. Learning and understanding the necessary attributes from different channels and following them accordingly to create feed files can be a challenging task.
If you have a large WooCommerce store with hundreds of products, then it can be a daunting task to create, manage, and update product feed files for individual channels following all the guidelines and attributes.
A WooCommerce product feed plugin can save you from all the hassle. One such plugin is the CTX Feed.
CTX Feed - product catalog feed for WooCommerce plugin
CTX Feed is a freemium plugin that makes the process of creating product feed files for multiple channels a breeze. You can create product feed files for 130+ channels right from your WooCommerce back panel using this plugin with little to no effort.
The best thing is, the plugin already knows what attributes different marketplaces require. It has integrated those attributes inside channel templates.
All you have to do is, select the channel template which we will check out in the next section. When you select a channel template, the plugin will automatically populate all the necessary attributes that the channel needs.
Not only that but also when you click the generate button, the plugin will collect all your WooCommerce product data and organize them in a product feed file. CTX Feed also provides different filter settings that give you the ability to list specific products or product categories or exclude specific products.
The greatest feature of this plugin is the auto-update feature. You can enable auto-updates for all your product feed files for different channels.
You can set a fixed interval time for auto-updates after which all your feed files will be updated automatically. Any changes you make to your Woo product pages, the plugin will collect the changes and automatically update the feed files.
The plugin also supports the URL/FTP/HTTP/SFTP upload method. Using one of these methods, you can host the file from your own WooCommerce website server and connect to the channel.
For example, you can connect to Google Shopping using a URL. For all the updates that happen in your WooCommerce store, Google will fetch those updates through the feed URL and update the Google Shopping listings.
Therefore, you can display accurate and updated information across all your channels using this plugin.
How to create a product feed file using CTX Feed
Now, let's quickly create a product feed file to promote WooCommerce products in a marketplace. Let's say our choice of the marketplace is Walmart.
We will start by installing the plugin. Log in to your WordPress admin panel and search for the plugin when you are in Plugins>>Add New.
Install and activate the feed plugin. CTX Feed will create its own menu.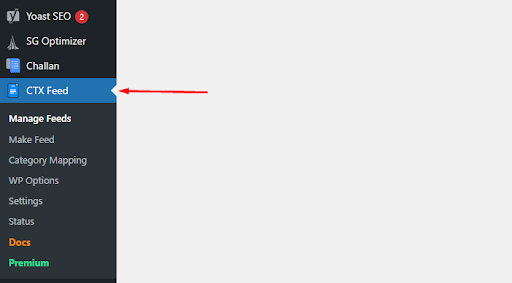 Click on Make Feed to start creating a feed file. Here's what the new window looks like.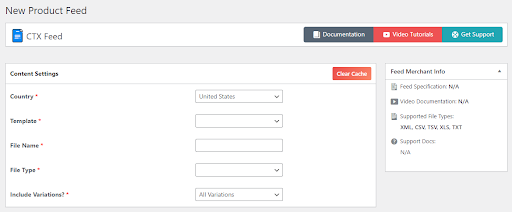 From the Templates dropdown, select your channel which in our case is Walmart.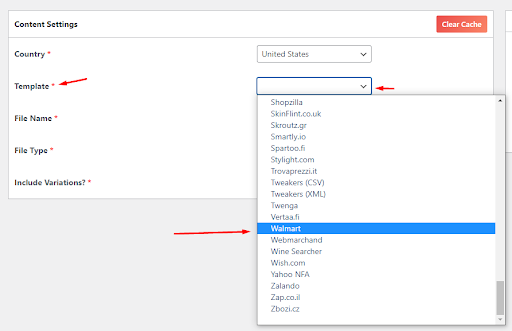 Give your file a name and select a file type. As soon as you select the template, the plugin will automatically create all the necessary attribute fields.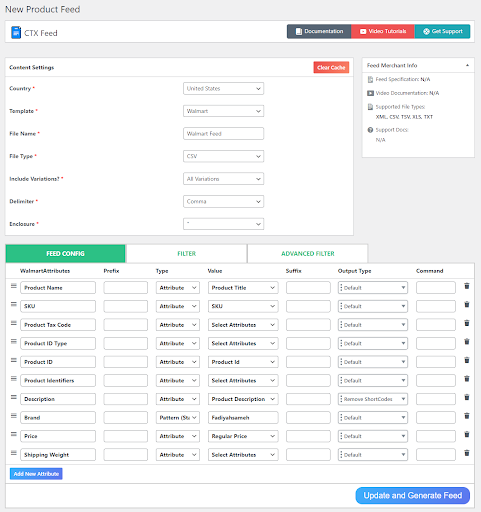 All you need to do now is click the Update and Generate Feed button to create the feed file. You can then find your feed file in Manage Feeds.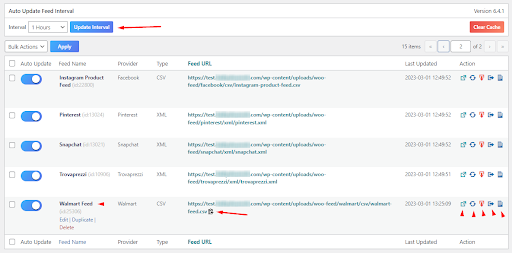 You can edit, regenerate, download, view, or connect through URLs from different settings. The Interval setting at the top is the update time setting we talked about earlier.
For example, if you set the interval to 30 minutes then all your files will be updated after every 30 minutes. If you make any changes to your WooCommerce product pages or add/remove any products, the plugin will automatically fetch those changes and update the feed files accordingly after every 30 minutes.
Wrap up
In conclusion, promoting WooCommerce products on online marketplaces can offer several benefits for merchants looking to expand their reach and increase sales. By leveraging product feed marketing and listing products on multiple channels, merchants can increase their products' visibility, attract more potential customers, and optimize their advertising strategies based on data insights.
However, to be successful in promoting your products on online marketplaces, you need to ensure that your product feed data is accurate and up-to-date and that they comply with the policies and guidelines of each channel.
By following the best practices we recommended and investing time and effort in your product promotion efforts, you can take advantage of the opportunities offered by online marketplaces and achieve your business goals.