Don't ever look over the significance of a unique career page!
Recruitment is time-consuming and costly, so you don't want to risk losing potential applicants just before they apply. Today more than ever, it's important for a firm's employment website to highlight perks like flexible scheduling and telecommuting options to attract top talent.
Any careers page can benefit from a few well-implemented adjustments, however. What purpose does your firm serve? For what do you advocate? So why should someone wish to work for you specifically? In other words, how do your present workers feel?
Your company's job website should answer these and other common inquiries. Please look at these top-performing examples of career pages and learn what makes them so successful. Let's look at 10 ideas to give your career page a fresh look.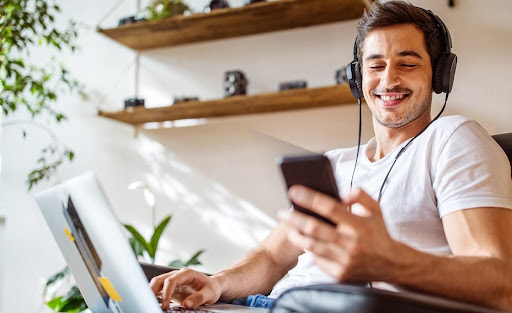 For those who aren't aware: this is what a career page is…
A careers page, also referred to as a career page or career site, is a portion of your firm's website that offers job possibilities at your organization.
On this page, you can also discuss employment-related content with possible applicants. Other names for this page are the career page or the career homepage.
The following information is often included on a page devoted to careers:
Details about the positions that are currently open.
Specifics on the organization's strategy, including its values, purpose, and vision.
Details about the many different groups that make up the institution.
Testimonials from former and present staff members and customers who have worked with the firm.
Specifics on the pay and perks that are in store for successful candidates.
Videos depicting the workforce or a typical day at the firm can be seen here.
More than that, information can be included on a career page; additional components are also possible.
Alternately, some firms have excellent job sites but do not provide all these facts on their websites. On the other hand, these are the most typical bits of data you will discover on a website devoted to a job.
Why is a career page so important in 2022?
According to data compiled by CareerXroads, career websites play a crucial role in the hiring process, accounting for 94.1% more recruits than they did four years ago.
Despite this, getting considerable value from your careers website might be difficult. Applicants have a very limited attention span while browsing online; you have little time to interest them in applying to your company. Some of the key important factors are:
Create a good candidate experience
Job seekers value simplicity and efficiency in the application process. If a job application is too long or too complicated, 60% of potential applicants will give up and go elsewhere.
Candidates will have a positive experience with your registration if it is easy to use while providing all the required data.
Sell candidates on your company and beat your competitors
Improve the user experience of your career page to stand out from the crowd. Find out what content your rivals' sites are missing and fill that need on yours.
A potential employee can choose your firm only because of this perk. For better understanding, read about these career page ideas that will open up a few avenues for you!
Attract top candidates
You need a stellar job website to hire the most qualified people for open positions in your company in 2022.
One method of attracting top-tier employees is to be very transparent about your organization, the open roles, and the qualifications you want in candidates.
10 brilliant ideas and examples to help you make a better career page
Idea 1: TeanLeader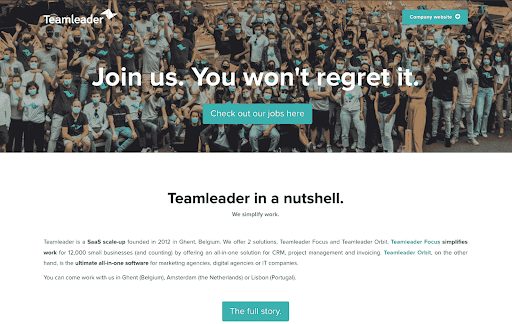 Teamleader is a rapidly expanding firm that provides customer relationship management (CRM) and project management application to improve teamwork in small and medium-sized enterprises (SMEs).
There are now branches throughout Europe, and their reach is growing rapidly. Teamleader's goal is to aid the expansion of small businesses by making useful software readily available at reasonable prices. Teamleader's careers page is streamlined and professional, meeting all the necessary criteria.
When it comes to marketing themselves as an employer, Teamleader has it down with a series of promotional movies and a long list of benefits. The jobs page's vibrant hues and original images make the organization seem more approachable.
Idea 2: Olive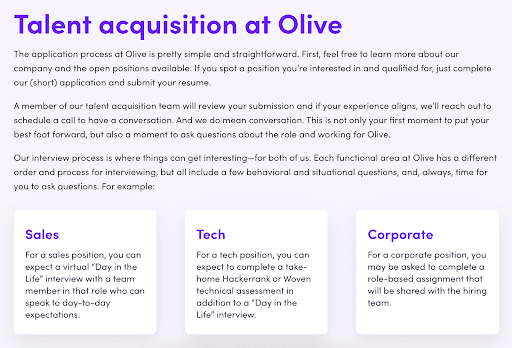 The company's jobs website is honest and forthright about what to anticipate from this artificial intelligence (AI)-powered software that attempts to close efficiency gaps in the healthcare business.
Olive stresses that an experienced TA expert will get in touch with qualified candidates. And they emphasize that they mean dialogue on the jobs page.
There are also assurances that open lines of written and verbal contact will be maintained throughout the process, even if a candidate doesn't make it to the next level, and specifics on how the assessment will appear depending on the role and department (i.e., sales, tech, corporate).
Idea 3: HubSpot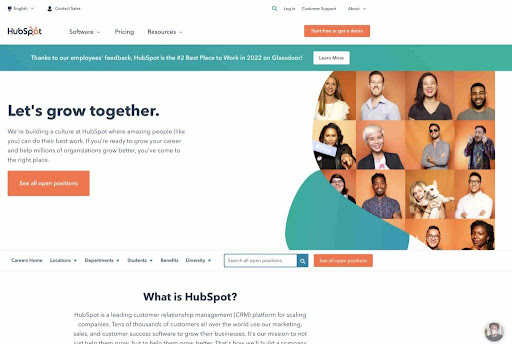 HubSpot was designed as a CRM system. Among the top career sites available, theirs stands out because of a few noteworthy features. Interested parties can discover more about their history by visiting the linked sites, one of which has an integrated Instagram slide.
One feature that sets HubSpot apart is the integrated display of the company's culture code on the career page, which includes the company's values, vision, and goals. The presentation comprises over 120 slides, so it's not for the faint.
Idea 4: Spotify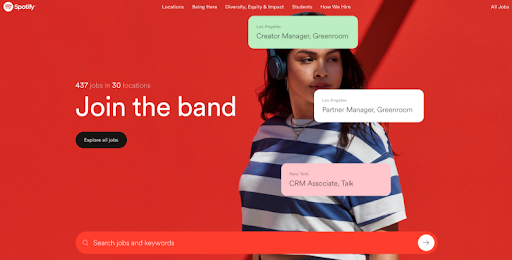 Spotify, like Netflix, uses various demographic and statistical data to promote diversity and inclusion. Further, they outline their strategy for ongoing development in this area, which is a step beyond the norm.
They provide a blog for both employees and potential employers on HR matters. Few details are provided on the company's perks and benefits, which are important factors for most prospective candidates to consider.
Idea 5: CoreOS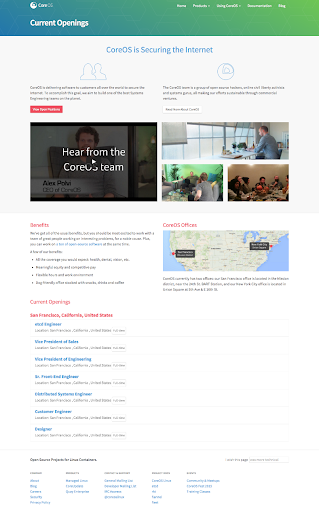 Including a video on the company's employment website is highly recommended. Reading a quotation is one thing, but seeing someone on video brings out their unique qualities in a way that nothing else can.
Video is a great method to demonstrate to prospective employees what they can expect from working with you. Furthermore, a personal message is always more powerful than a company-generated one.
After making your recruiting video, don't just post it on your website's jobs page. Upload it to YouTube and think about using Instagram and Vine to share clips.
Because of how simple and easy to navigate this website is, it will be much easier for potential employees to get the information they need.
Idea 6: Amplitude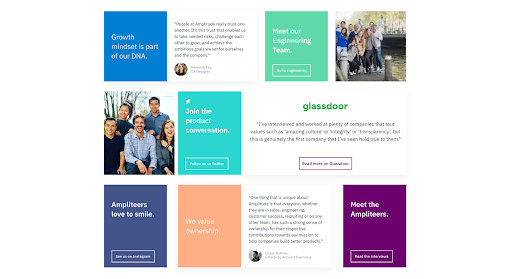 Attractive visuals and strong headlines make the information on Amplitude's jobs website stand out. Amplitude immediately emphasizes their dedication and enthusiasm as a business, providing a context for the rest of the details that follow.
Amplitude incorporates ratings and comments from employees on Glassdoor into their website, a useful resource that gives prospective hires an immediate sense of the company's culture.
Employees are referred to as "Ampliteers" (a play on the word "amp"), which is another quirky aspect of Amplitude that the company likes to promote. This creates a friendly, neighborhood-focused vibe for their business.
Idea 7: Swapfiets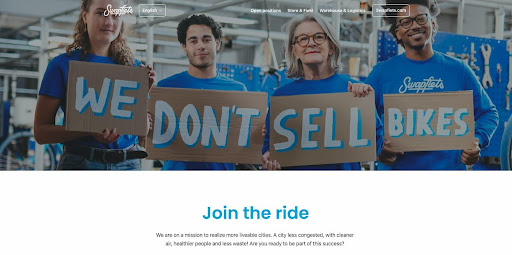 Swapfiets is a European startup with a straightforward business model: members get access to a fleet of bicycles for a set monthly charge.
The firm has steadily grown with over 270,000 subscribers and operations in 9 countries since 2014. Their company's principles and purpose of promoting healthy, eco-friendly living are reflected on their careers website.
The company's history and core principles are summarized so that prospective employees can get a feel for the organization in a few seconds. What's even better about it? The header picture is a clever representation of the company's main focus.
Idea 8: Pinterest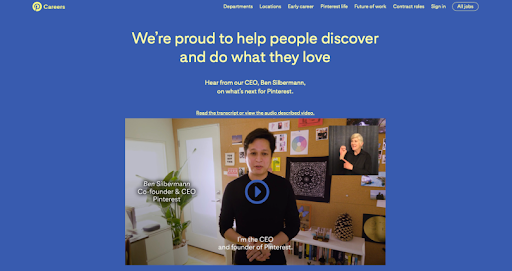 For a good reason, Pinterest has completely embraced video. Job posts that include videos attract 36% more candidates.
Pinterest uses the style to showcase engaging material like testimonials from satisfied customers, a look back at the company's history, and interviews with current workers.
Idea 9: Wistia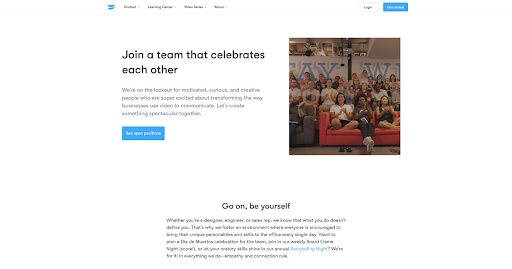 It's not surprising to see Wistia employ its material in the recruitment process; from GIFs to complete videos, the firm sells its product to the applicant, which is an important consideration when designing a corporate website. You can also learn why a good resume is important for a graphic designing job.
Their commitment to their core beliefs and the advancement of their company's objective is conveyed openly and with pride under quirky, casual subheadings. Wistia's advantages are detailed, giving potential employees several reasons to apply.
Idea 10: Hotjar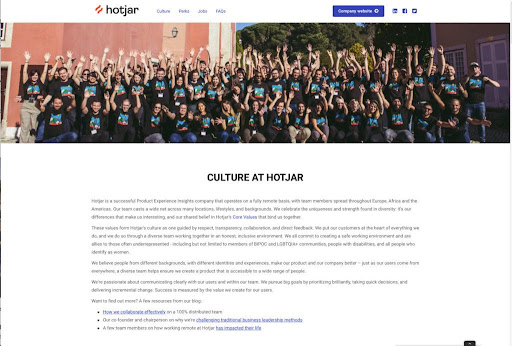 Hotjar is a service that generates heat maps of a website's traffic and gives in-depth data on the users' actions. Interested candidates can check out a variety of films about working at Hotjar by visiting the company's job website.
They also provide a simple graph detailing how the application, screening, and hiring process works. As a result, the applicant will know the length of the hiring process at Hotjar. Read about some of the most simple tips to design online profiles, perhaps just like that of the Hotjar.
Now that you have all the ideas you need, it's time to implement them!
You've tried everything to attract top talent to your firm, from crafting the ideal presentation to sending customized InMails and rallying your staff to promote open positions on social media.
According to LinkedIn data, only a quarter of potential employees are applying for jobs. As a result, the vast majority of the talent pool will need to be inspired by your career page before they make an effort to apply.
Unfortunately, this isn't taken into account on most career sites. Now that you have all the ideas to make a standout career page, it's time to get going!
Writer's Bio
Tayyab is a diction enthusiast and an SEO buff with a CS background. He's been serving the SAAS & PAAS world for the last five years. Let's connect on LinkedIn.